(中文用户指南)
(Руководство пользователя на русском языке)
Welcome to GDMedz (former GDMeds). The features and items displayed may vary depending on the sites you visit, and on your regions, and language. Any question, please contact GDMedz online customer service team.
Step 1. Create the account.
Action 1, click the above menu 'My account', and fill in your email address and your password in the appropriate field.
Action 2, click 'Register' button to create your account.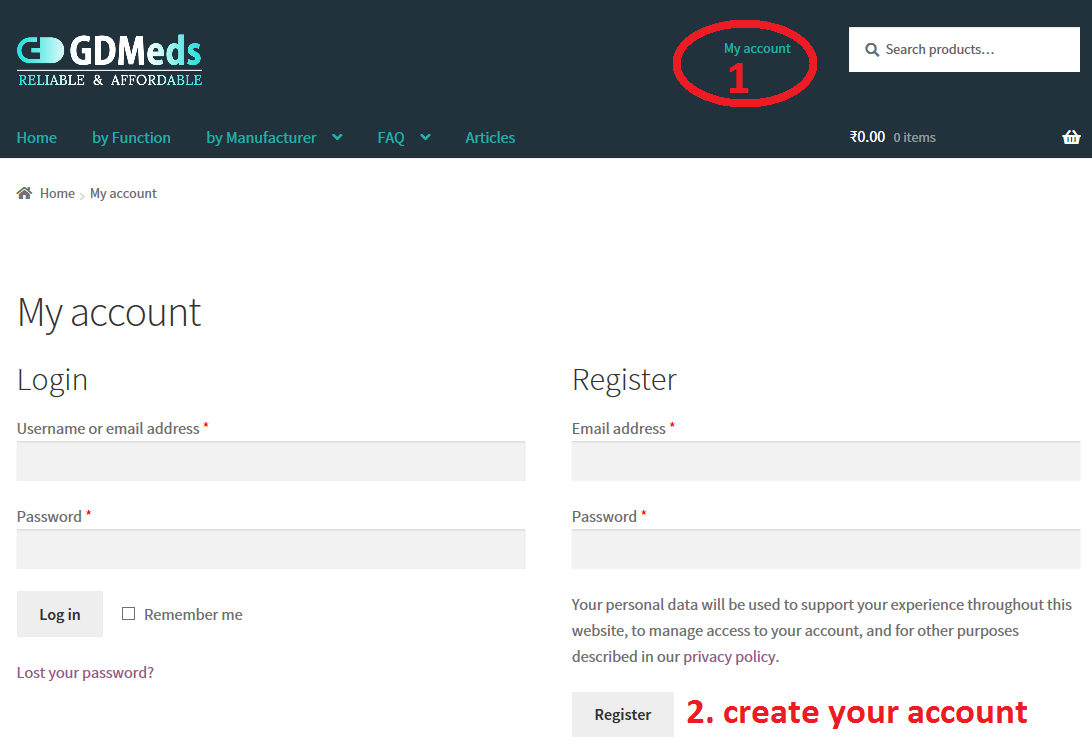 Step 2. Find your medicines
Action 1. Fill in the medicine name in the search bar, then press Enter or click the search symbol.
Action 2. Please select the medicines and add it into your cart directly at the search results page, or at the detail page of the medicines.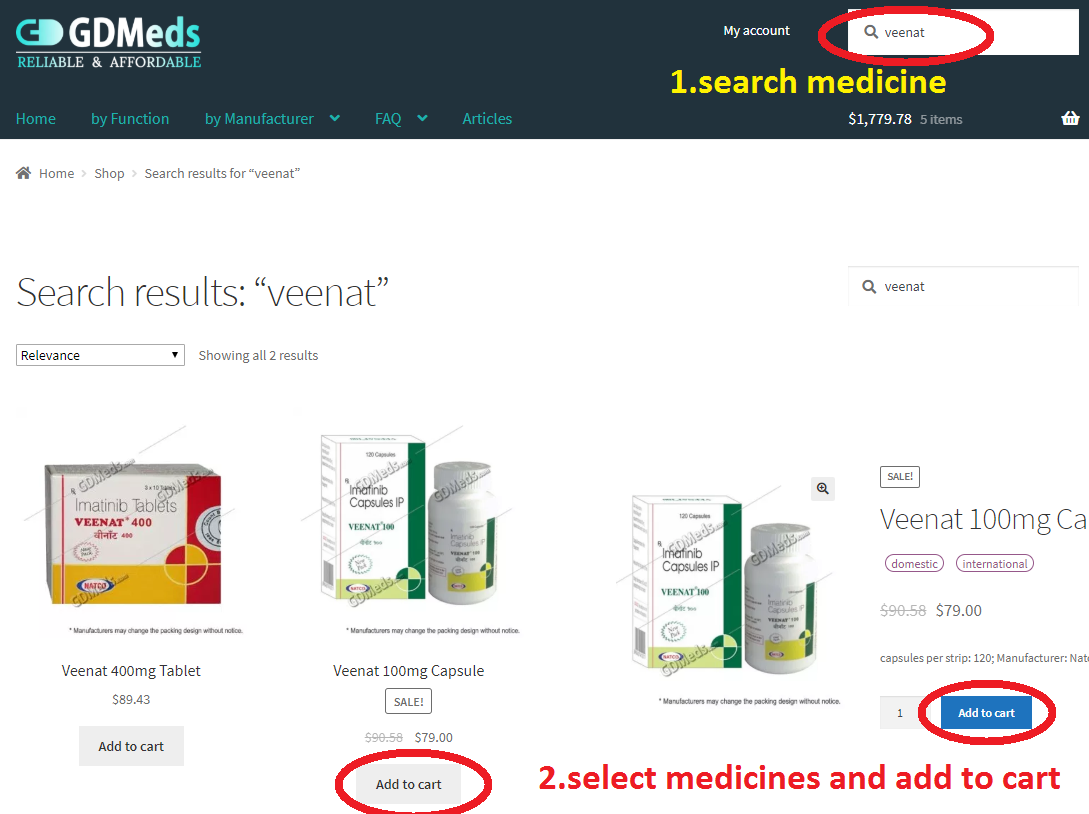 Step 3. Checkout
Action 1. Set the quantity you need.
Action 2. You could click the button of 'Update cart' to check the total price and the associated shipping charge if you have set the destination. if not, then set the destination first by click 'Calculate shipping', then click 'Update cart' again to check the shipping charge.
Action 3. If have any coupon code, please fill in and click 'Apply coupon' to check how much could be discounted off.
Action 4. If medicine and quantity are correct, then click 'Proceed to checkout'.
Step 4. Submit your order.
Action 1 (Optional). For all prescription medicines, please upload your prescription. Please be noted that only one file could be attached. If you have several files of the prescription, please compress them into one zip file, and then upload it. For some prescription medicines, if you don't have the prescription, you may be able to upload the diagnosis from your doctor, or the health check reports. Our chemists will review and decide whether could sell the medicines to you.
Action 2 (Optional), upload the prescription files you selected.
Action 3. Fill in your address and contact info in English in the fields of Billing details. if your shipping address is same as your billing address, then uncheck the box which is at the right side of 'Ship to a different address'.  (Since 2019, your address could be filled in your native language, we will translate into English later.)
Action 4. For foreigners, you could put the address of your native language at the order notes. If any request, you could put in the notes as well.
Action 5. Please check the info you filled, and then submit your order by clicking the button of 'Place order'.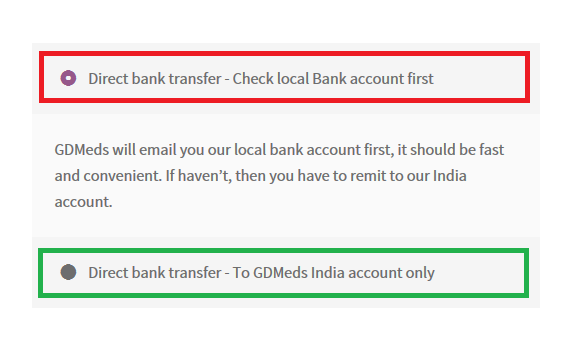 * GDMedz (former GDMeds) may update the payment methods without notice. Currently, we may have 2 options. If you choose the first option – 'Direct bank transfer – Check local Bank account first', then we will email you our bank account in your country if we have after your order be approved. The second option – 'Direct bank transfer – To GDMez/GDMeds India account only', then we will email you our India master bank account if your order gets approved.
Step 5. Wait for our notice.
Action 1. After pressing the button of "Place order", you will see the below message and an email will be sent to you as well. If haven't received, please check your SPAM as well.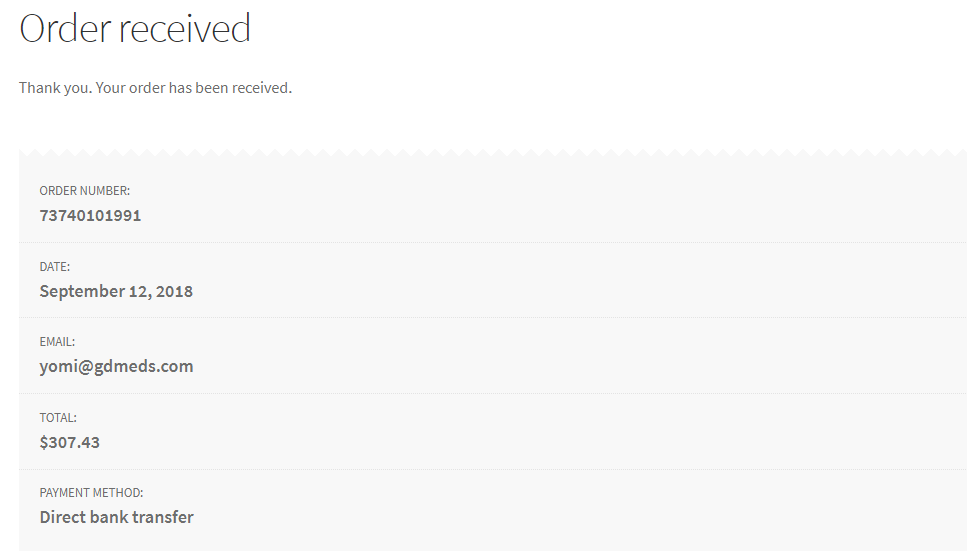 Action 2. GDMeds will review your order and the prescription you provided. Once your order gets approved, we will email you the payment way soon.
Step 6. Make the payment and email us your payment receipt. We will arrange your parcel shipment once receive your payment.
Thanks for your time. Any question, please contact online support.
.
.
—–GDMedz , a reliable and affordable pharmacy service provider.